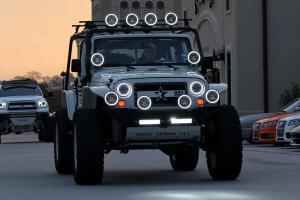 Headlights. You might not think about them often, but they make a big impact on the function and aesthetics of your vehicle. By lighting up the road, headlights help you travel safely in inclement weather, and their design is what gives a vehicle its face when it's viewed from the front.
Today, you're not stuck with the headlights that came installed in your vehicle. Custom headlights allow you to make changes to the overall style and the level of safety of your vehicle, and there is truly no limit on what can be done with aftermarket headlights and made-to-order custom headlamp assemblies.
With Custom Headlights, You Can:
See the Road More Clearly.
In many vehicles, headlights don't do a good enough job of illuminating the road in complete darkness at top speeds. If you've ever found yourself unable to see well at night due to inadequate headlights, switching to projection headlights can help. Available for nearly every vehicle on the road today, projection headlights use a smaller reflector to shine light onto the road, resulting in a more focused beam. Projector LED headlights make night travel even safer by shining more brightly than even xenon auto lighting. Another benefit of LED car headlights is that they last for a lot longer than other types of headlights, eliminating the expense and time wasted with frequent bulb changes.
Make Your Car Look Like a High End Vehicle.
Super cars and luxury vehicles typically have futuristic, stylish auto lighting, and if you've ever found yourself envying a pair of LED car headlights on a dream vehicle, you can actually get that look on your own car with a custom LED headlight assembly. For example, you can transform ordinary headlights into halo headlights with glowing rings of white or colored light around their outer edges. You can also have painted or black headlights installed to blend your headlights into the front end of your car, truck, or SUV.
Improve the Visibility and Style of Your Turn Signals.
Headlights aren't the only part of a car's auto lighting that can be improved. Sequential turn signals can be used to help alert other drivers that you're turning in a more noticeable and visually exciting way. These turn signals don't just blink on and then blink off. They create unique visual effects, such as sending a shooting beam of light across the back and front of the car.
Change Auto Lighting Features That Are Unappealing.
Many drivers find certain parts of their vehicle's standard headlight assembly ugly, and if you're one of them, there are ways that you can have the headlamps customized to remove those unsightly details. One option is to have amber lights taken out of headlamp assemblies and replaced with other lighting. You can also have switchback LED lights installed in place of the daytime running lights to disable that glow of the DLRs if you don't like their shape or placement.
These are just some of the ways that custom headlamp assemblies can be used to upgrade a car's appearance, or improve how you see at night. With the latest advancements in custom headlights, it's possible to get any effect you can think of with auto lighting.
To read more about headlights and their history, click here.